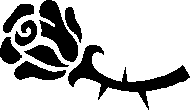 <![if !vml]>

<![endif]>
A GIFT OF THORNS
And lest I should be exalted above measure through the abundance of the revelations, there was given to me a thorn in the flesh, the messenger of Satan to buffet me, lest I should be exalted above measure. For this thing I besought the Lord thrice, that it might depart from me. And he said unto me, My grace is sufficient for thee: for my strength is made perfect in weakness. Most gladly therefore will I rather glory in my infirmities, that the power of Christ may rest upon me. Therefore I take pleasure in infirmities, in reproaches, in necessities, in persecutions, in distresses for Christís sake: for when I am weak, then am I strong. (2 Corinthians 12:7-10)
Strange gift indeed! - a thorn to prick≠
To pierce into the very quick,
To cause perpetual sense of pain.
Strange gift! And yet, 'twas given for gain.
Unwelcome, it came to stay;
Nor could it be prayed away.
It came to fill its God - planned place
A life - enriching means of grace.
O much tried saint, with fainting heart,
The thorn with its abiding smart,
With all its wearing, ceaseless pain
Can be thy means of priceless gain.
And so what thy thorn may be,
From God accept it willingly.
But reckon CHRIST - HIS LIFE - HIS POWER
To keep, in thy most trying hour.
And sure - thy life will richer grow;
His grace sufficient will bestow.
And in Heav'ns morn thy joy 'twill be
That by His thorn, He strengthened thee.
--Anonymous